In late summer of 1988, the Weekly was launched in a tiny office in Carmel with the idea of becoming the county's independent newspaper, an alternative to the stodgy, corporate-owned media that had hold of the local television, radio and newspapers. We started small, before fax machines and long before the internet and smartphones came to inhabit our landscape — the carpet in our office was quickly stained from the wax used to attach our typeset, layout pages for pre-press. The team was young, filled with tons of energy and drive, and frankly, they needed every drop of it to put together the county's most comprehensive calendar, to attend events and meetings, to report what stories we could, to build ads to support the business community, to meet our press deadlines and payroll.
Over time, thanks to your readership and advertising support, we grew the enterprise.
Today the journalism industry is in the midst of some tectonic shifts, under attack by the president who calls any unfavorable reporting "fake news." We've been online for 22 years and the economics — and pressures — of this wild digital age are stunning. The duopoly of Google and Facebook capture 84% of digital ad dollars.
As an independent publisher, we're well positioned to be the last local media standing. It's strange and humbling, but today the Weekly has a larger circulation than the Monterey Herald and Carmel Pine Cone (by a factor of three), the Salinas Californian (by a factor of five). Our print circulation is as strong as ever, and our digital readership is growing, now over 500,000 page views per month.
We're strong and don't have some Florida-based venture capitalist funding us (or calling the shots). That's the risk of being independent, and the opportunity.
And that's why I'm appealing to you, and asking you to become a member today.
We had big ideals and ambition since day one. My feisty team took chances, and with your support, we'll continue to do so.
Please consider some of our history. We've reported thousands of topics in our 1,500-plus print issues, many of which have won national, state & local awards in news and arts categories: public service, investigative reporting, arts & entertainment, spot news, agricultural news, feature reporting, environmental reporting, photography, opinion writing, arts criticism, food reporting, sports feature, education reporting, business reporting, and health care, as well as cover, editorial and ad design.
We were named the top weekly newspaper for General Excellence in California (2012) and are a finalist for that prestigious award again this April. We've been named Media Business of the Year by the Monterey Peninsula Chamber of Commerce, twice.
On the news side, early on we completed an investigative story about Seaside City Manager Sam Head which led to his firing by the City Council. Seaside Mayor Lance McLair raged in front of our building the day the story broke but could not identify a single error. He lost his next election. For nearly three years after the announced closure of Fort Ord, we had regular coverage about its destiny, which landed us a state award for public service. We challenged Leon Panetta's initial Fort Ord Reuse committee, lacking any women or minorities, and he heard that call and within days made responsible changes for its makeup, landing us one of our first editorial awards (that one for opinion writing) [10yr, 25yr].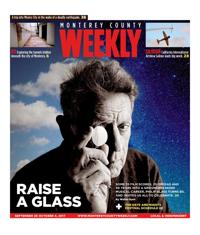 On the arts, food and culture side, our calendar of events and Hot Picks quickly became the county's most important source for what to do (and when). We spotlighted the best and the brightest, have consistently covered the scene and had some fun, too. The nude beaches issue was an eye-opener for some readers. Over the years our reporters have landed temporary roles as rodeo clowns, skydivers, boar hunters, treasure hunters, night-shift workers, condor spotters — each turned into a feature story for you.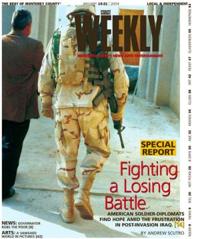 In 1991, the Weekly crashed the Pentagon's plans for positive spin from the Iraq war front when news editor Jim Cole hopped a military cargo plane to Saudi Arabia and delivered an uncensored report on the Gulf War — the only alternative weekly newspaper in the country to do so. In 2003, our reporter Andrew Scutro spent Christmas in Baghdad — the only local media to send a reporter to the cover this war (unembedded, at that).
Our efforts continue to inspire thought-provoking dialogue and both disdain and love, exactly what a local newsmedia company ought to foster. The 1992 Safer Sex Guide, on Valentine's Day prompted an all-out boycott against us from over 300 members of one church in Pacific Grove. They targeted every advertiser and took exception to our editorial content, directed to single people to help to stem the spread of HIV. To our surprise and delight, not a single advertiser canceled their contract, supporting our belief that the community wanted accurate, forthright information and discussion about sensitive topics.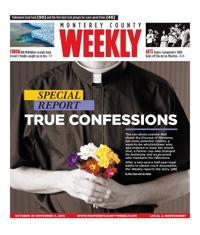 When we've needed to, we've fought for our first amendment rights in the courts, against Suterra, a large chemical company, who sued us in L.A. County to prevent us from publishing (and disclosing) the ingredients used to combat the Light Brown Apple Moth (to be sprayed over cities in Monterey County). We countersued, and won. We were in the courts against the Monterey Diocese to force the release of over 1,000 pages of deposition transcripts in an unfathomable local priest-sexual predator case. We won in the local courts, but the diocese appealed to the state Court of Appeal — where we won again, ultimately exposing this horrific tale to you. For our efforts we won a national First Amendment award, beating out the other two finalists, the Miami Herald and Rolling Stone.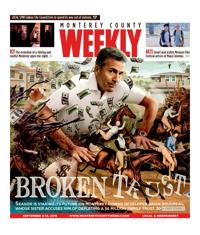 Just last year the Cemex sand mine in Marina, which has operated since 1906, and which scientists have blamed for beach erosion along Monterey Bay, announced it will be shuttered after the Weekly extensively reported on its devastating environmental impacts to the area. In 2016, the implosion of Monterey Downs development occurred quickly after our 4,600-word enterprise report exposed the questionable finances of the monster project and the developer behind it. Last year, the former city of Seaside police chief quit within days after we exposed his racist Facebook posts.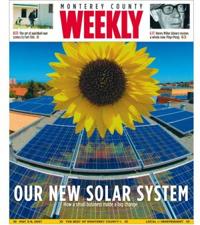 Our community service isn't limited to editorial efforts. We were the first local media online (1996), were the first to obtain LEED Platinum: Existing Building in the tri-county area (2007), in part thanks to our 162 solar panels on our rooftop.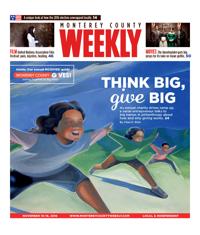 In 2009, we launched Monterey County Gives!, collaborated with some fabulous partners (Community Foundation for Monterey County, Monterey Peninsula Foundation, Cannery Row Company, Neumeier Poma Investment Counsel and the David & Lucile Packard Foundation), and have now raised and donated over $17 million to the nonprofit community.
But as our publisher, Erik Cushman, reminds our team, we're only as good as our next print edition, online post, and customer interaction. We need to keep innovating, while recommitting to our mission — to inspire independent thinking and conscious action, etc.
Perhaps more than any other time in our lifetimes, strong, steady, independent journalism is needed, is the crux of a functioning democracy. But quality journalism is both time-consuming and demanding. The research and writing that is the heart-and-soul of our work, of any enterprise reporting, requires time, skill and tenacity, not to mention institutional commitment (and money). It takes many people to produce an outstanding weekly calendar, to review events and stay plugged into the cultural scene.
This new age of technological disturbance has altered the media landscape. The future of advertising will continue to shift. But your financial support and membership can make us stronger.
Please join our membership program today, to help keep the Weekly vital and so we can continue to be the Best of Monterey County®. We intend to keep the independent newsmedia alive and well in our community.
Thank you for your existing readership, letters to the editor, ongoing feedback, your support of our local advertisers, donations to Monterey County Gives! — all critical to both our success and the community's.
I commit to do my best to keep up the good work, to surprise, delight and deliver the best we can muster, week in, week out. Please join us.
Thank you,
Bradley Zeve
Founder & CEO